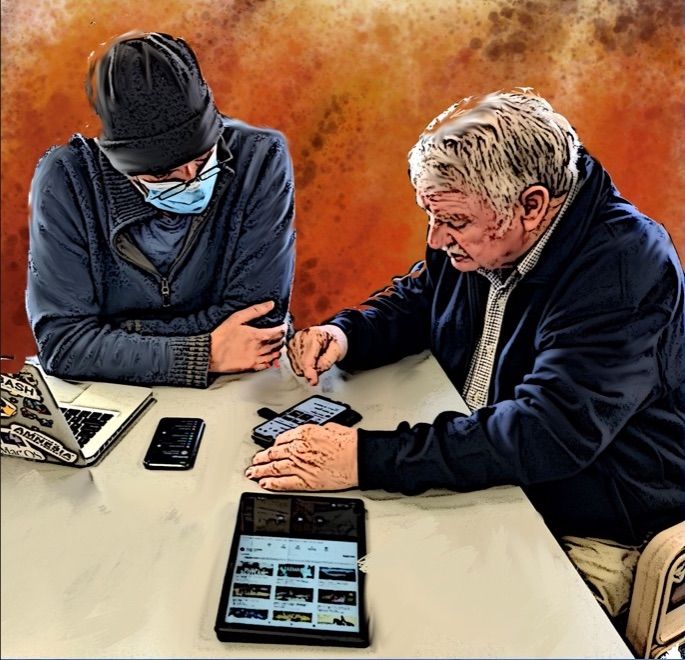 Senior Tech classes are custom designed for the tech level of the students. We try to find the fine line between being informative and entertaining. Our group classes are interactive and have been known to include tasty treats and sneaky tricks to make your tech life easier and more fun.
Personal Computer literacy training for adults and seniors
Our personal classes can be done in your home or office. While we specialise in improving computer literacy for older adults, we are happy to train all ages at an introduction to proficient levels of most Apple* and Ubuntu applications. We have current Working with Children and Police Checks we can provide upon request. We stay on top of our vaccines, including flu, so we are nursing home compliant.
We will take the time to teach the topic that you are interested in learning and point you in the direction of finding your own answers in the future. Unlike a lot of tech heads, we do not think we are better than you. We just want to share our knowledge and hopefully even learn from you.
Group Classes and workshops
We can tailor our group classes to fit your needs. We are also good at reading the room and adjusting the language we use to best suit the student's understanding of computers and technology.
Check out our online OSX tutorials
To get an idea of what our classes would be like take a look at our Adult & Senior Training blog where we talk not only about how to operate Mac OSX but how to learn computers when you are over the age of 35. We understand the difficulty and fear that comes with seniors learning how to use various forms of tech for the first time.
More than a Senior Tech class, its a relationship!
You really can't teach seniors and adults at this level of success without developing a relationship with the student. How else are you going to understand how they learn? What are their tech goals? What are their fears about using technology?
We take pride in running into our students on the street and asking, "Hey how did the photos for your grandson's birthday come out?.. Did you need any more help with the Apple Photos software?"
We are here for the duration. Our ultimate goal is to someday have the grandkid of today's Senior student return with their own kids. Senior Tech classes is the best way to be more comfortable it todays Digital world.