When we opened MacMason Repairs and Training it was right in the middle of COVID lockdowns. I had been laid off from my previous employer in Katoomba, and there is not any Mac shops in the area. Until my wife pointed out to me that there are no Mac Shops in the area! So we got our ABN, filed all the paperwork and build a repair shop in the backyard. We also rented a desk from Lithgow Tech Services where I could do minor repairs.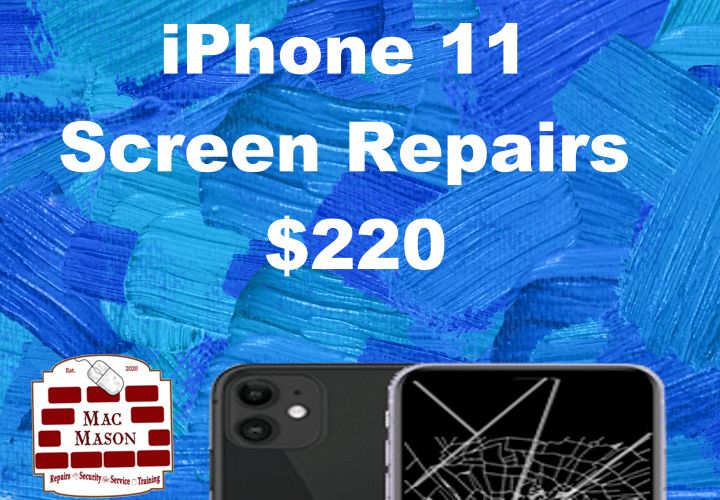 This worked for a while, then we started to have problems. Turns out that when you treat customers with amazing customer service they tell their friends. So we encountered a new problem, (A good problem. but a problem nonetheless)
The problems with the old space
So the other day I noted that my entire workbench was covered with repairs. I did not even have a place to store the phones and iMacs whose repairs had been completed. While this is a good problem to have I started to think that I needed a larger work area. (Or at least a place to store successful mac repairs)
No place to give Mac and Moble device training
So to be clear I will always be in Jackie's (The owner of Lithgow Tech Services) debt for the help she has given us over the last year. However, her shop was never set up to do training. That is totally understandable as she is more of a retail shop and not a training centre.
This would mean when I needed to give a training in the shop I would have to make sure that I was not in the way. I also did not have a space where I could give group training.
While I am doing onsite training nobody books appointments.
Now that I have many appointments teaching in homes and senior centres I am not always in the shop. While that is a good thing it does mean that anyone who comes into the shop while I am gone would have to make an appointment. While I am so happy that I need order more business cards because Jackie had passed out so many It was never Jackie's job to book those appointments. Once again THANK YOU JACKIE !!!!
So the problem is that by being busy I am missing out on business. I need the business to have more appointments. UGGG!
Mobile Magicians Closing Down
So you would think that another phone repair shop in town we would be bitter enemies. NOPE! Tyson and I get along rather well actually. He has been a big help with some of my more difficult repairs. It was also not uncommon for one of us to call the other to see if they had a "iPhone 8 display" or another part.
To find out that he is closing down because he has a great opportunity in Sydney was a bit of a shock. But what this does mean is that all of his business is coming in my direction and the current shop is not going to be big enough.
New Phone and Mac Repair Shop Coming to Lithgow
so we decided to take the leap and find a shop on the main street where we can have more space to do what we really want! We looked at a few places until Jackie suggested we rent the space right next to her shop! YES, IT WAS JACKIES IDEA! She even helped negotiate the terms with the Landlord! HOW AWESOME IS THAT!!?
The Plans!
So we got the keys to the new shop and have already started fitting it out for our needs. From the ground up we are going to design the workspace so we can expand and grow.
Training area where we can sit and focus on the training.
Big display for group training classes
More workspace
Small retail space where we can sell specific products.
Office Space for RufSolutions (Marcia's Law Practice)
Mac and iPhone products coming soon.
After talking with Jackie about what products she is going to be offering in her shop we will be setting up a limited selection of other retail products that will not directly compete with the products sold at Lithgow Tech Services. The whole point is to make it so that I am not taking business away from her. So for example we will not be selling Bluetooth speakers for computers or mobile devices. All our products will be more Mac-related. (Maybe a few drones)
Refurbished Apple Watches
Refurbished iPhones
Refurbished iPads
Refurbished Macbooks, Macbook Airs and iMacs
Creative equipment, Wacom Tablets, Podcasting equipment
Raspberry Pi and Adrieno sensors and development boards
So how is it going? Let me show you!
While we are excited about the New Mac repair Shop Coming to Lithgow we will still be doing repairs over the next month or so. We do ask that you make an appointment so I am not covered in paint.